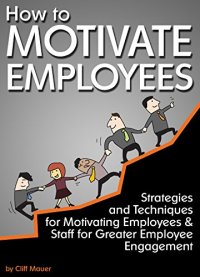 If you are in a managerial position and want to learn how to motivate your staff, then this book is for you!
Read on your PC, Mac, smart phone, tablet, or Kindle device.
It's a fact: Happy and motivated employees are productive employees. And that all starts with you, their manager or boss. Granted, keeping everyone motivated is a lot of responsibility on your shoulders, but it can – and should – be one of your primary objectives, since it will make your job that much easier in the long run. The trick in keeping your employees motivated is to recognize them as special individual assets and to always keep their individual skills and interests in mind. As their appointed leader, it is your job to make sure that your constituents are satisfied in their position and to foster a more conducive working environment for the benefit of everyone involved. This ebook is designed to help you step into the mindset of an effective leader whom your employees will loyally follow and glady help bring to success.
Here Is A Preview Of What You'll Learn…
What Makes a Good and Effective LeaderUnderstanding Employees as IndividualsFostering Postive Work RelationsIncreasing Company LoyaltyTechniques for Motivating and Connecting with EmployeesMuch, much more!Download your copy today!