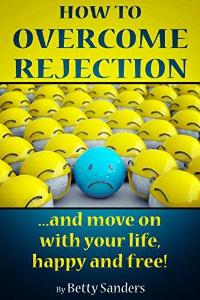 Get this Amazon bestseller for $0.99 only. This special book is usually priced at $7.90!
If you're looking for something that will inspire you amidst the darkest times of your life, the eBook How to Overcome Rejection is what you should read! You will get advice on how to deal with rejection, with as much maturity as possible. One of the greatest and most helpful reads you can ever find both online and off!
"Thank you Sandy, your book gave me enough courage to stand up! I understand the dynamic of rejection now, I will not let others to take me down anymore!" (Maya Rini, US)
With this book, you're about to discover how it is to live your life free from regret and frustration because of any and all types of rejection. I'll also give you an idea as to how you can move on with your life after rejection without looking back.
In addition, here is a preview of what else you will learn:
– When and Why Were You Rejected?

– Who Can You Talk To?

– Using Medication – To Drink or Not To Drink

– Alternative Ways of Dealing with Rejection

– How to Change Your Lifestyle

– The Support System – Finding the Right People

– Going to the Root – Cutting the Wrong People Off

– How to Prevent Emotional Eating Due to Rejection

– Have You Accepted It?

– How To Increase Your Chances Of Not Getting Rejected
Download the book How to Overcome Rejection right now – you can get your copy in the next minute!