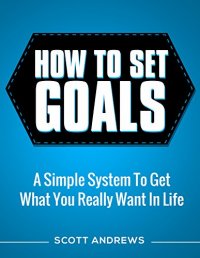 Do You Get What You Really Want in Your Life?
As the adage goes, failing to plan is planning to fail. Everyone has things that he or she wants to do in life. Do you want to work from home, sporting your brand new pajamas? That's great. Do you want to travel the world? Good plan. Fancy car? Nice!
But although you can describe these as your goals, it takes more than just wishful thinking to actualize your goals. Wishing to get to a certain point isn't enough to make you get to that point.
If you don't have something specific that you want to attain, however, life can be cruel; you feel as if you have too much on your plate but don't seem to get anywhere. You may even be doing so many things, but all your efforts are fruitless. Day in and day out you see success stories about how different people are efficient at setting goals and executing them, so what makes it so hard for you to reach your goals?
Sound familiar? Then you've come to the right place.
In this book you will learn the tools and techniques that you will need to actualize all of your goals. You'll discover the 7-step formula that will help you on your journey to get the things in life you desire most; whether they're social, material, political, or any other type of goal that you can implement to make your life worthwhile.
Actualization of goals is more than doing good deeds; it is about following the specific guidelines you have set that will guide you towards the attainment of your goals.
Doing Anything Without a Goal is Like Walking in The Dark
You really don't know which direction you are headed and whether you are doing the right thing.
Start doing the right thing now.