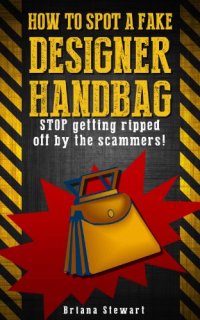 Free on 10th Feb 15


No reviews yet.
This book appears to be unavailable on Amazon.co.uk at the current time. If this is incorrect, please let us know here
"How to Spot a Fake Handbag" is a unique and easy guide, which helps relieve the worry of spending $100's and $100's of dollars buying fake Louis Vuitton or Fake Prada, Fake coach and other handbags online. With this Amazing Guide we Will Show You Exactly What Is the Difference between Authentic Designer handbags and Counterfeit Handbags( both online and offline)!
With the advent of the Internet the crimes and scams at a all time high online hustlers are raking in the dirty dollars like never before.Websites like ioffer.com Ebay.com and even amazon.com have become a breeding ground for fake designer merchandise and while there are websites selling the genuine items, there are just as many sellers passing off counterfeit goods as the real thing.Rumor has it that security staff at Louis Vuitton will even confiscate guests' handbags at their fashion shows if they are suspected fakes (Imagine the embarrassment)!
Most Designer Brands….take the problem seriously by hiring watch dog services and investigation companies, But these efforts only combat less than 3% of the total handbags counterfeited Globally. Which is a estimated $8 billion dollar business( Global Counterfeited goods)……. Because of minuscule efforts on the behalf of the brands…Consumers must be pro active in protecting themselves…….Our guide is the 1st line of defense for the savvy consumers….
Some of the tactics, tips and advice in store for you include the following:
• This book will reveal all the hidden facts that will help you spot fake handbags even from miles away!

• You will get a report which will tell you how to spot a fake Louis Vuitton.

• It also includes a report on how to spot a fake Coach bag which will give all the details on the authenticity of coach bags.

• It includes a special report on spotting a fake Prada which will help you buying the genuine one.

• You'll get lifetime updates of "How to Spot a Fake Handbag" and that's absolutely free of charge.
After reading our guide you'll be able to walk into any handbag shop (online or offline) and be armed with the hidden tactics of spotting a fake designer handbag a mile away.