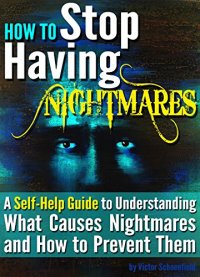 Free on 30th Jun 21



or borrow free on Kindle Unlimited.
No reviews yet.
If you want to understand why you're suffering from nightmares and how to make them stop, then this book is for you!
Read on your PC, Mac, smart phone, tablet, or Kindle device.
The common misconception that nightmares only afflict children is just that: a misconception. Restless and disturbed sleep, fighting to catch your breath, and a heart pounding like crazy from fear are only some of the symptoms you experience during these vivid agonizing dreams. And although they might not affect your health in any serious way, having nightmares can certainly interfere with your general well-being and mental state. Not to mention, they're just downright unpleasant!
This book is designed to provide you with helpful advice and instruction for dealing with and eliminating your nightmares. First, we'll start by explaining exactly how sleep works, and more specifically by outlining the sleep cycle and identifying the stage of dreaming. Next, you'll learn how to detect what's triggering your nightmares, examining your emotional state more closely, and then finding the best strategy to tackle your nightmares successfully. So sit back, relax, and join me for this short read to kick your nightmares to the curb and ensure you'll have pleasant dreams once again.
Here Is A Preview Of What You'll Learn…
Understanding Your Sleep CycleThe Five Basic Characteristics of DreamsWhat Actually Causes NightmaresHow to Prevent NightmaresEnsuring Good DreamsHow to Incite Lucid DreamingMuch, much more!Download your copy today!