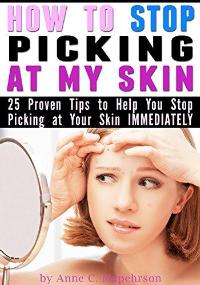 If you have a problem of constantly picking at your skin but just can't seem to stop, then this book is for you!
Today only, get this incredibly useful guide for just $2.99. Regularly priced at $4.99. Read on your PC, Mac, smart phone, tablet or Kindle device.
You can't keep your fingers off your face and your skin. As soon as your hands are free, they are on your face picking or scratching at a pimple here and there, rubbing those acne marks off your skin, peeling off scabs, or pulling off those blemishes from your arm. Most people are naturally conscious of how they look and how their skin appears. However, it's considered unnatural when you can't stop picking at your skin. Something is definitely wrong – you have a real problem. Although you may feel helpless, or unable to stop, rest assured, you CAN do something about it.
Here Is A Preview Of What You'll Learn…
Definition, Signs, and Symptoms of Skin PickingTwenty-Five Proven Tips to Help You Stop Skin Picking ImmediatelyThe Causes of Skin PickingTreatment Alternatives for Skin PickingMuch, much more!

Download your copy today!
Tags: skin picking, picking skin, picking at skin, skin picking addiction, picking at my skin, picking at your skin, stop skin picking, pathological skin picking, excoriation disorder, acne, acne scars, pick at skin, skin pick, dermatillomania, compulsive skin picking, csp, ocd, obsessive compulsive skin picking, excoriation disorder, skin picking disorder, obsessive compulsive disorder, neurotic excoriation