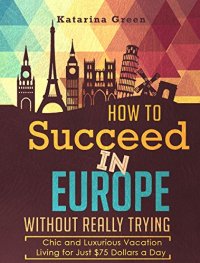 Get This Book For a Discounted Price Of $0.99. This Offer Ends On Mar 6

How to Succeed in Europe Without Really Trying: Chic and Luxurious Travel Living for Just $75 a Day
Are you lacking something new and exciting in your repetitive life?
Do you want to see Europe without killing your savings?
Do you want to start planning your life changing stay in a new and exciting place right now?
Are you over sleeping on strangers' couches and skipping meals to make travel work?
Do you want a travel planning book that will help you do everything you want without compromising comfort?
Do you want to learn how to keep energy up and make the most of every day on the road?
This book is perfect for you. You will learn how to embrace the luxury of local living and learn the ways of the locals with this travel planning book. From where to go, where to sleep, how to travel, and what to eat, this book is packed with tips and experiences of how to make comfortable travel work on a shoestring budget. Each piece of planning advice is backed up with a breakdown of costs and daily averages to help you create a budget that is just right for your needs and interests.
I have spent my life dreaming of foreign and exotic places. When other kids in elementary school wanted pizza, I wanted Korean food. When friends slept over and wanted to watch Bring it On, I recommended Truffaut. I was playfully pretentious, but mostly just obsessed with the world beyond my own life.
Thankfully, a few lucky breaks, lifelong saving strategies, and extensive, creative planning have made it possible for me to explore the distant corners of the globe and start to satisfy my insatiable thirst for travel.
I've traveled to 25 countries (and still counting) and more cities than I have the time or energy to add up. I've had the opportunity to call places as diverse as Paris, Los Angeles, and Athens home, each remarkably different from NY, in whose shadow I spent my childhood. I've traveled well, not only far but deeply, meaningfully. I've built up international experiences and knowledge not as souvenirs or trinkets, but as the very building blocks that make me who I am.
International friendships keep me up to date on the latest and greatest cultural happenings in the world, but my first hand experiences can never be displaced. They're a part of me. I've learned how to fit a happy life into the overhead baggage compartment, and I've also learned that with the right attitude, any place can feel like home.
How to Succeed in Europe Without Really Trying will help you plan an incredible trip with an incredibly low price tag, without compromising on basic luxuries.
In this book, you'll discover:

How to make travel a priority in your life.How to choose your perfect vacation spot.Which resources and guidebooks to use to pick your European destination and plan your trip.How to embrace differences once you arrive and enjoy your trip to the max.How to find gorgeous options for places to rest your head without going over budget.How to embrace local eating culture and have the best meals of your life.When to spend, when to save, and when to splurge on attractions and mementos.How to economise on transportation and experience the rhythm of your destination.How to plan day trips that will improve your understanding of the culture and the region.How to give gifts that say "I was thinking of you" and not "I got sucked into a tourist trap."How to incorporate your experience into your daily life back home.How to do it all for $75 a day!

Don't forget to claim your free gift: The 7 Things You Need to Carry with You When You Travel