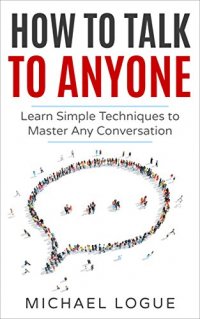 Friday 4:23 PM.
What's it gonna be this weekend? Maybe I'll do that hike I've been putting off. I do have that last season of Archer I've been saving for a rainy day. Don't know. Definitely gonna be dinner for one. I'll come up with something after work. No rush. As usual.
Shoot.
Here comes Brian. Wonder what he wants so close to quitting time. "Hey Mike, a few of us are getting together at the brewery….." I don't even hear the rest. I'm too distracted by the cattle prod like shock starting in my chest and moving outward quickly. They call it social anxiety.
Excuse, excuse, come on brain! Think! Am I turning red? Can he tell I'm scrambling here to come up with anything that sound half way plausible to get out of being around strangers…
I want to. I just don't think I'm good at talking to people that's not my family.
This was me a while back. I would avoid any social setting as if my life depended on it.
I just didn't know how to talk to people. That's why I created this book.
I want to teach you the foundation of good conversation.
Being social is a skill. Skills can be taught. If you want to lift your social status, invest in yourself and click the Buy Now button at the top.
In the book you will learn:
How to be a good listener
How to be interesting to people
What to talk about
What NOT to talk about
How to read body language
and more….
What are you waiting for? Every journey starts with a first step.