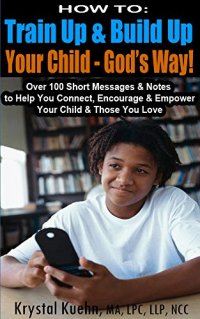 Do you want your child to be confident, optimistic, grateful, successful, positive, hopeful, joyful, resilient, secure?

Do you want to better connect and strengthen your relationship with him/her?

You can!
Children, tweens, teens, young adults – everyone needs encouragement! Giving children simple, uplifting words of encouragement is a priceless gift from a parent that instills strength and security and builds confidence and faith.
Do you want a fast and effective way to encourage your child?
Parents have a great opportunity to connect with their children like never before. Sending uplifting messages (SMS, IM, note cards, lunch box notes) to let children know they are loved can calm their anxious minds, strengthen their resolve, improve their self-esteem, and change their lives!
Find out how in International, Best-Selling author Krystal Kuehn's uplifting, character-building, life-changing work: HOW TO Train Up & Build Up Your Child – God's Way! Over 100 Short Messages & Notes to help you Connect, Encourage & Empower Your Child & Those You Love
People go farther than they thought they could when someone else thinks they can.

~ John C. Maxwell