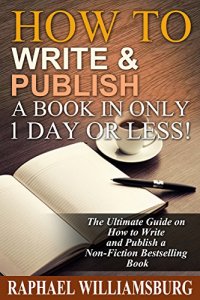 Free on 18th - 22nd May 16



or borrow free on Kindle Unlimited.
No reviews yet.
DOWNLOAD IT NOW! IN KINDLE UNLIMITED FOR FREE
WRITE YOUR OWN BOOK AND PUBLISH BY YOURSELF IN 1 DAY OR LESS, REVEALED!
How To Sell Your Books? This Book Will Teach You How Write And Publish Your Book Written By Yourself, Is More EASY Than You Think!
This book contains proven steps and strategies on how to author a nonfiction book that would sell millions. It will also guide you on the tricks and trades of publishing, especially now that digital and self-publishing are becoming more popular to writers.

Almost everyone dreams of writing and publishing their own book. Why not? Isn't it fulfilling to see your ideas written on paper and finally published for your readers to see? One of the gauges of your success as a writer is the number of sales of your books. This privilege, however, does not stop at selling your book. You will also meet tons of loyal readers who would always wait on your next title. You will also be entitled to book launches, signings, and workshops. You could even have a million fans and followers over Facebook and Twitter. In short, a lot of people would know who you are, these are the very people who trust you because you have written something of value.
The true test of a writer is longevity. It is hoped that after publishing your debut book, you will not be shelved as a one-hit wonder. If you have the talent, the dedication to write, and the skill to communicate with your readers, you can emerge as one of the most loved writers of all time. Simply imagine the joy of readers who would encourage you to publish that next self-help book. Consider as well the number of readers who would benefit from reading your work. Writing is a two-way process: you earn while you help people.
Here Is A Preview Of What You'll Learn…
The Reader in a WriterThe Basics of WritingThe Stages of WritingThe Joys of Writing NonfictionTraditional, Digital, and Self-PublishingMuch, much more!
Download your copy TODAY
Take action today and download you copy TODAY in only $0.99!