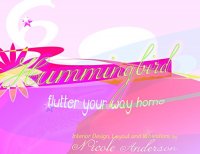 Encourage your child's imagination and confidence to embrace creativity, and learn to nurture inner strength in times of loneliness. Teach your child the value in embracing nature and the calming and friendly spirit that resides in it.
Imagination is key. Exploration is fundamental in young minds to grow and develop.
Nature is our comforter. Our healer… Our friend when we need it to be. Nature is the peace in our spirit just like the hummingbird's flight when it finds the way back to us. Hummingbird: Flutter Your Way Home teaches your child to find nature as fun and a delight throughout the seasons.
Hummingbird: Flutter Your Way Home is an illustrative and beautiful picture book of friendship and the seasons for all ages to enjoy, and a delightful read during the changing seasons.
Promote positive values in your child now to face living in this world. Hummingbird: Flutter Your Way Home is a fun read anytime… with the whole family… before bedtime… or as a self-read for older children. Teachers… Educators will find this a valuable resource for teaching these core values to individual students and entire classes.
Enrich your child's life.

Get your copy of Hummingbird: Flutter Your Way Home today!!!
______________________________________________________

Looking for more inspiring, faith-based or value books for your child?

Discover these other titles and much more available now…
Seasons: There is a reason for everything

The Lollipop That No One Wanted To Buy

The Wisdom Tree