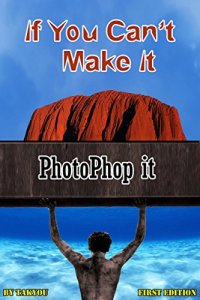 Free on 2nd - 5th Dec 15



or borrow free on Kindle Unlimited.
No reviews yet.
I'm Stupid although i learn Photoshop
So you cannot open This book without learning something.
"" The world is a book, and those who do not travel read only a page. ""
Saint Augustine
How to use Adobe Photoshop CS6 ? the revolutionary software that
provides support and special editing tools for digital and graphical
photographers. This Book is designed for those with no image-editing
experience, so you'll go from a novice to accomplished photo designer.
Adobe has combined the power of their award-winning technology with
sophisticated tools that produce dynamic results. This Book offers
simple, step-by-step instructions for correcting flaws, enhancing the
final product, adding text, and More and More. Because This Book is
specifically targeted at photographers, you'll come away with a
collection of useful techniques and quickly start seeing amazing results
in your images!
This Book includes:
Introduction
1.What is Photoshop?
2.The Interface.
Menu Bar..
Panels.
Control Panel.
Tools Panel.
3.Opening an file/Creating a new file
4.Switching between open images.
5.Rotating and resetting the view..
6.Cycling between screen modes
7.A few very important preferences.
8.Digital imaging.
9.How to Blend Images in Photoshop.
10.Brightness and Contrast.
How luminance works.
The three Auto commands.
Automatic Brightness-Contrast
11.Balancing Colors.
12.Making Selections.
Using the geometric Marquee tools.
Turning a selection into a layer mask.
Aligning a layer to a selection.
13.How to Create a Lightning Effect With Photoshop.
14.How to Add a Black Background to a Picture.
15.How to Change Eye Color in Photoshop
16.How to Add Text in Photoshop
17.How to Bend Text in Photoshop
About The Author.
Buy the "If You Can?t Make It Photoshop it " right now