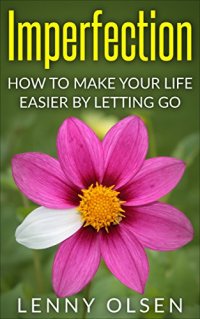 Free on 13th - 17th Dec 15



or borrow free on Kindle Unlimited.
No reviews yet.
Learn How to Accept Imperfection and Find Freedom
Perfectionism is too often upheld as a positive virtue, right along with hard work and communication skills. However, perfectionism is actually a toxin that poisons every area of your life, from your relationships to your job to your physical health. In Imperfection: How to Make Your Life Easier by Letting Go, the true nature of perfectionism is exposed and the beauty of imperfection is revealed.
In this book, perfectionism is broken down into three types: self-oriented, other-oriented, and socially-prescribed. Self-oriented perfectionists have an internal set of expectations they feel compelled to follow, while other-oriented perfectionists want everyone else to be perfect. Socially-prescribed perfectionists can be a bit harder to pin down, but they need to be perfect because they believe others around them want them to be. Each type is described at length in the first three chapters, with tips for how to overcome their specific issues, such as:

Self-oriented perfectionists need to learn how to laugh at themselves.Other-oriented perfectionists need to learn how to be empathetic and make excuses for others.Socially-prescribed perfectionists need to learn how to ask for help.
The last three chapters focus on the three stages where all types of perfectionism tend to play out most aggressively: relationships, work, and health. The effects of perfectionism are detailed for each specific area of life as well as the methods for reclaiming imperfection and happiness.
All perfectionists need to learn how to let go of their unreasonable standards and embrace imperfections. Nobody is perfect, but everyone has value. By letting go of perfectionism, you can reduce your stress level, have meaningful relationships, and love your job even when it is hard. You will no longer be bound to an impossible set of standards. Freedom is the essence of imperfection, and you can experience it.
Download your copy today!
Tags: imperfection, making life easier, letting go, acceptance, accepting imperfection, finding freedom, easy living, happier life, becoming better