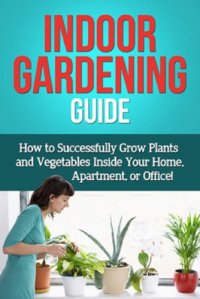 Indoor Gardening Guide
Today only, get this Amazon bestseller for just $2.99. Regularly priced

at $4.99. FREE BONUS ALSO INCLUDED INSIDE! Read on your PC, Mac, smart phone, tablet or Kindle device.
Indoor gardening can be a great hobby for many reasons.

It's enjoyable, you don't need much space, it can make your home more appealing, you don't have to worry as much about pests, there is less work involved… The list goes on and on.

Whatever your reasons for indoor gardening, this book will be able to help you.

Inside, you will discover how to set up a beautiful indoor garden, learn to use different growing methods, and find out some of the best plants for indoor gardening!

You will also get some expert tips on making sure that whatever plants you choose to grow will stay healthy, and thrive in your indoor garden!
As a thank you for downloading, there is also a FREE bonus gardening e-book included inside! So download today, and get 2 books for 1!
Here Is A Preview Of What You'll Learn…
What is indoor gardeningShould you use a container system or hydroponic systemHow to set up a container gardenHow to set up a hydroponic gardenWhat varieties of plants you can growThe best herbs, vegetables, flowers, and decorative plants to growExpert tips on how to keep your plants healthy inside the houseMuch, much more!
Download your copy today!
Take action today and download this book for a limited time discount of only

$2.99 before the price rises!
Tags: indoor gardening, indoor, indoor planting, indoor herbs, indoor vegetables, indoor growing, how to indoor garden, container gardening, hydroponic gardening, aquaponic gardening, gardening, planting, growing, decorative plants, grow vegetables, grow herbs