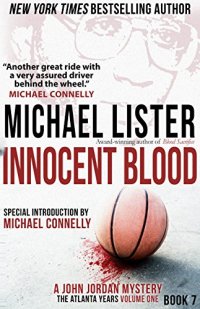 Also Available as:
Print Edition

John Jordan's first case is also his most shocking and heartbreaking.
From New York Times Bestselling author Michael Lister–A Stunning Case. A Shocking Ending. A young John Jordan confronts the Atlanta Child Murderer, investigates his first case, and is mentored by Harry Bosch.
Go back to the very beginning with one of crime fiction's most fascinating, brilliant, compassionate, and unique detectives.
With a Special Introduction by Michael Connelly
Every great character has a past.
Few are as entertaining, as thrilling, or as tragic as that of ex-cop turned prison chaplain John Jordan.
When he was twelve years old he came face to face with the man who would be convicted of the Atlanta Child Murders.
Six years later, John returned to Atlanta determined to discover who was truly responsible for all the slaughtered innocents.
Experience the exciting events that shaped one of the most unique characters in all of crime fiction. Accompany John during his first spiritual awakenings, his first battles with alcoholism, his first forays and fallings into love, and his very first murder investigation.
??? Every great character has a past, but it's not often you're allowed to witness it the way you will John Jordan's in the portrait of a detective as a young man that is INNOCENT BLOOD.
"Michael Lister is a giant talent with a unique vision. His landmark John Jordan Mystery series is a treasure of contemporary literature." Florida Weekly
Publisher's Weekly Starred Review: "Lister gives fair clues for the surprise solution, thus combining a compelling account of his hero's spiritual struggle with a top-notch whodunit."
"Another great ride with a very assured driver behind the wheel." Michael Connelly
DON'T MISS A SINGLE BOOK IN THE THRILLING JOHN JORDAN MYSTERY SERIES!