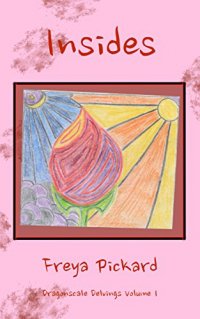 In 2014 Freya Pickard was diagnosed with bowel cancer.
Insides is her inner journey, charting her progress through colostomy, removal of the tumour and chemotherapy.
Dealing with the dark matter of cancer and facing death three times in six months, this collection is a positive affirmation of hope and life.
To tell the tale of her darkest nightmare, Freya uses blank verse, haiku, tanka, cinquain, elfje, lantune and her very own freyan verse.
The poetry ebbs and flows from despair and fear to determination and sheer grit to get her through to a stage of recovery.
But, as Freya finds and expresses through her journal notes which find their way into short form poems, recovery happens in many stages and isn't as immediate as she hoped or wished.
This collection will bring comfort and renewed determination to anyone dealing with a life-threatening illness. And, it is hoped, that those on the edges, watching from afar, will be enabled to identify more with the sufferers of cancer.