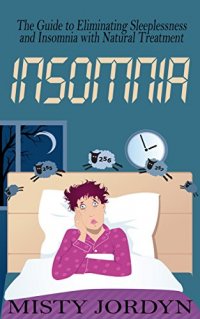 Sleep: The Guide to Eliminating Sleep Disorders like Insomnia with Natural Treatment and Sleep Better Every Night
Don't Miss The Free Gift After The Conclusion
The average human being should be able to get at least 8 hours of sleep every night; however, the reality is that we only get about 5 or 6 hours of sleep on lucky days.
Do you often find yourself wide-awake in bed at 2 in the morning? Do you often have to try so hard at closing your eyes and falling asleep every now and again? Do you find every bedtime a disaster? Research has it that insomnia is fast becoming a problem especially for people who has so much on their plate everyday–work, school, and even personal problems that get in the way of sleeping. What's the problem, you ask? Most people blame their daily activities. On one hand, we may have so much work to do that sleep just becomes secondary to it all. On the other, even if we already get into our PJs and ready to hit the sack, our mind still wanders off to those meetings you should prepare for the next day, those papers you still haven't started on, and those presentations you're still not done editing.
While reading Sleep, you will learn:
Five unexpected consequences of sleep deprivationThe definition, symptoms, and types of insomniaThe six primary causes of insomniaThe difficulty of finding a commercial, medical solution to insomniaThe benefits and techniques for using certain essential oils to reduce insomniaSpecific dietary changes that can also relieve insomniaWhat kind of diet is being used in removing insomnia symptoms, with a week-long meal planAdditional tips that help you control your environment and be better prepared to have a restful night's sleep.
This book is filled with the insights you need to better understand and deal with insomnia.
In this book, you'll gain a deeper understanding of what insomnia is, the effects it can give you, what really causes it, and finally, you'll discover numerous ways to solve your seemingly never-ending insomnia problem using natural remedies that are as effective (or even more) as any medicine drugstores worldwide may offer. What's better is that you get to do these simple remedies anytime and anywhere you may need them–fast and easy! This book also contains a discussion of the proper dietary habits that a person should have to improve his/her sleep.
In addition, the book contains a very helpful bonus chapter dealing with the benefits of essential oils for medical problems.
ACT NOW! Click the orange BUY button at the top of this page.
Then you can immediately begin enjoying this book on your Kindle device, computer, tablet, or smart phone.