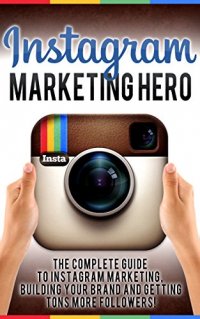 Become An Instagram Marketing Hero!!!
Get this Kindle book today, priced at just $1.49 for a limited time only. Regularly priced at $4.99. Read on your PC, Mac, Smart Phone, Tablet or Kindle Device.
Become an Instagram Marketing Hero! Discover how to build your brand, get tons more followers, engage with your target audience and add a personal touch to your business!
In Instagram Marketing Hero, you will learn specific step-by-step strategies to mastering the art of marketing on Instagram.
Instagram has the potential to create MASSIVE GROWTH for your business if used correctly. Instagram users engage with businesses 15 times more than Facebook users do, as the average user spends approximately 257 minutes using the app each month! There are now more than 300 million users on Instagram over 25 languages. Instagram has huge potential to grow your business and this book will show you how to do just that!
The key to building your brand on Instagram is USER ENGAGEMENT. Instagram are extremely selective about the brands they allow to advertise on their site. However, by following the steps in this book, it will become simple and straight forward to create an engaging account with tons of followers!
If you follow these steps you will have the tools to create an engaging account which stands out from the crowd, increasing your followers, reaching a wider audience and increasing revenue for your business thanks to the brand popularity you have created using Instagram.
More than that, you won't have to worry about where next to turn or how to further engage with your audience on a personal level, it's laid it all out for you.
You're well on your way to becoming an Instagram Marketing Hero!
Here Is A Preview Of What You'll Learn…
What Instagram IsHow To Create An Engaging AccountHow To Use Hashtags EffectivelyHow To Boost Your FollowersHow To Build Your Brand On InstagramInstagram User DemographicsHow Celebrities Use Instagram For PromotionHow To Link Instagram To Your WebsiteHow To Run Instagram ContestsHow To Make Your Account Stand OutHow To Use Other Apps To Create Further EngagementHow To Use Instagram To Reach A Wider AudienceHow To Use Other Social Media Platforms To Increase Your Success On Instagram
Take action right away and become an Instagram Marketing Hero today by downloading this book, "Instagram Marketing Hero", for a limited time discount of only $1.49!
Download your copy today!
Tags: Instagram, Instagram Marketing, Instagram Marketing for Business, Instagram Followers, Profits with Instagram, Web Marketing, Social Media, Web 2.0, Build Your Brand, Get Instagram Followers, Building Your Brand, Engage Instagram Followers, Instagram Competitions, Instagram as a Marketing Tool.