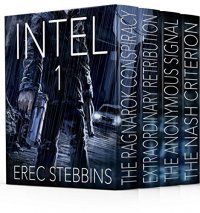 Free on 20th - 22nd Aug 21



or borrow free on Kindle Unlimited.
No reviews yet.
"Stebbins is the master of the thinking reader's techno thriller." -Internet Review of Books FOUR Action-Packed Thrillers (150+ FIVE Star Reviews between them). THREE Armageddon Scenarios. TWO Unusual Love Stories. ONE Secretive Intelligence Branch. The INTEL 1 Global Thrillers. "A monster new talent in the thriller genre." -Allan Leverone, author of Final Vector

THE RAGNAROK CONSPIRACY: "Fortify your shelf of Armageddon thrillers with this promising newcomer." -Library Journal
A Western terrorist organization targets Muslims around the world, and FBI agent John Savas must put aside the loss of his son and work with a man who symbolizes all he has come to hate. Both are drawn into a race against time to stop the plot of an American bin Laden and prevent a global catastrophe.
"Outrageously entertaining: epic, explosive, subversive, engaged and compassionate, like a Michael Bay movie written by Aaron Sorkin." -Chris Brookmyre, author of Where The Bodies Are Buried
EXTRAORDINARY RETRIBUTION: Murder, torture, and vengeance collide to threaten the highest echelons of power.
"Startlingly dark" -San Francisco/Sacramento Book Reviews

"A labyrinth of highly charged action" -Tome Tender

"A plot that never stops" -ForeWord Reviews
Evil is not born of madness, but madness of evil. Follow a rogue CIA agent who uncovers a shocking conspiracy deep in the intelligence community. But a shadow follows the investigation: a killer bent on a revenge so terrible, it is only matched by the crimes committed against him. In the end, no one escapes unscathed, no beliefs will go unchallenged, and no wrong will escape the terrible, final, and extraordinary retribution.
"Stebbins nails it with this book. Just when you think you have the recipe down for international thrillers, an author upends it and creates multifaceted characters and a plot that never stops. Intrigue, murder, ethics, religion, romance, an international setting…the author has packed everything" -ForeWord Reviews
"A fast-paced international thriller…the twists and turns of plot continue right up to the last emotionally-charged paragraph" -Midwest Book Review
"An addictive page turner and heart pounding thrill ride… an absolute must-read. You won't be able to put it down." -Internet Review of Books
TWO NOVELS, ONE BOOK: "STEBBINS IS THE MASTER OF THE THINKING READER'S TECHNO THRILLER" -Internet Review of Books
THE ANONYMOUS SIGNAL: The global financial system is in chaos. World leaders have been compromised. An unstoppable computer virus eats through the Internet. They are Anonymous. They do not forgive. They do not forget. Expect their signal.
"Hang on tight for this one" -Tome Tender
"A thrilling and frightening story" -Portland Book Review
"Excellent, detailed plot, and clever storytelling -San Francisco Book Review
THE NASH CRITERION: We believed our government was of the people, by the people, and for the people. We were wrong. A terrorist's last words lead a team of special agents to the discovery of an unimaginable global conspiracy. But time is running out. The numbers are converging. Can a group of fugitive FBI and CIA operatives prevent the coming catastrophe before the world crosses The Nash Criterion?
"Complex and intelligent" -Manhattan Book Review
"Tense and exhilarating" -Portland Book Review
"A chilling, fascinating, thought provoking thrill ride" -Internet Review of Books