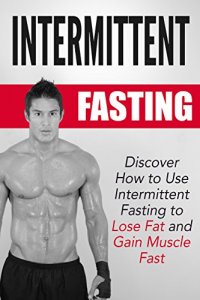 Free on 16th - 20th Mar 15



or borrow free on Kindle Unlimited.
No reviews yet.
The Healthiest Way For Fat Loss

*FREE ON KINDLE UNLIMITED*

How To Use Intermittent Fasting For Rapid Muscle Building And Fat Loss

Special launch price of $2.99. Regularly priced

at $7.99.

The Benefits of Occasional Fasting
At a time when obesity is a problem faced by a large portion of the population, finding a simple and healthy way of solving this problem is welcome by everyone. Occasional fasting is a practice that helps many people move away from fad diets and take care of their health in an easier and better way. The practice of fasting occasionally helps many people to acknowledge the difference between real hunger and so-called false hunger, which occurs as a result of the habits of our body and mind.

The practice of occasional fasting has huge benefits. First, it is necessary to mention the benefits to health such as weight loss, lowering of blood sugar, help with maintaining diabetes, prevention of some diseases such as cancer, and many others. Another benefit that attracts the attention of many is connected with the building of muscles. By fasting, the body is deprived of food for a time. During periods of fasting, there is no allowed consumption of food. This gives our body less calories than the number of daily calories needed, which results in a reduction of fatty tissues in the body and helps to create strong muscle.
Which Fasting Method Best Suits You?
As you can see in the third section, there are several known methods with proven results. The Leangains method, the Warrior method, the Eat, Stop, Eat, Fat Loss Forever method, and the Alternate Day Eat; all of these methods are put into practice by many people who are amazed by the results. Some of the methods require large meals in the middle of the night, but not everybody can practice this. To make sure that you will achieve the best results from fasting, it is a good idea to study all methods and choose the one that best suits your lifestyle and daily routine. When our goals are aimed at reducing weight and building muscle, it is better to devote the time appointed to exercise and eating. By practicing proper training, which means less intense training on the days when we fast and more vigorous training on the days when not fasting, we are much more likely to achieve our goal. Ensuring that meals have a correct combination of fats, carbohydrates and proteins that will contribute to building muscle is important as well. Muscles are mostly made in the kitchen, are they not?

Of course, let's not forget to mention the importance of water in this whole process. Bearing in mind that water makes up the biggest part of the human body, its importance is obvious. Consuming the proper amount of water every day will contribute to the ease of dealing with the issue of hunger during fasting, and will also help to get the desired muscles.

All of the things described in this book are reason enough to decide to try this way of developing thickness and the formation of lean, toned muscles. If you decide to try fasting, follow the directions given in the last part of this book and make the first step in changing your body, mind and your whole lifestyle.
A Small Preview…
How intermittent fasting can help with obesity Basics of Intermittent FastingHow to find the perfect intermittent fasting methodGiving intermittent fasting a go!Much Much More

Download your copy today!

Scroll up and download this book for a limited time discount of only

$0.99! Start today and see the progress before your own eyes.
Tags: Intermittent Fasting, Muscle Diet, Intermittent fasting for beginners, Fasting diet, Muscle Growth, Bodybuilding diet, Muscle Building, Bodyweight, Fitness, Lifting Weights