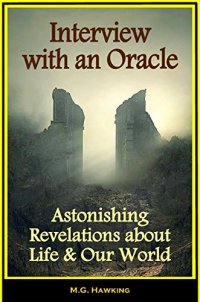 Free on 29th Sep 21 - 3rd Oct 21


No reviews yet.
First U.S. Edition – Interview with an Oracle
If you're concerned about the current state of the world, the well-being of your life, the lives of your family, and the future of our culture and country, this book is an important read.
While deep in the vast wilderness of the Himalayan mountains the author encounters a stunningly rare opportunity. A series of adventures leads him to an ancient Oracle Temple in the highlands of Tibet. There he has the chance to talk to a true shamanistic Oracle from the esoteric B'on tradition.
The author's 'interview' with the mystic Oracle reveals a profound series of insights and revelations.
An extraordinary account that is inspirational, thought provoking, disturbing, and highly enlightening. It is a narrative that will impact you, engender discussions, and stay with you forever.
For more information, please open the 'Look Inside' feature at the top of this page. Thank you.
First U.S. Edition, 40,105 words. BONUS, includes excerpts from The Living Part of A Myth, Five Years in the Valley of Masters book series.
Books in The Living Part of a Myth Series

A Discovery of an Unparalleled Kind (Book One)

A Series of Extraordinary Events (Book Two)

Antiquity, Three Crowns, and a Princess Revealed (Book Three)

Through a Looking Glass Several Hundred-Thousand Years Old (Book Four)

Kalika-Khenmetaten, The Supreme Egyptian Adept

Mystic Wisdom of the Masters, The Esoteric Knowledge of Great Adepts

The Illumination – A Story of the Magic of Life and The Light

Interview with an Oracle, Astonishing Revelations about Life and Our World

Ri-iha-mo – Tibetan Mountain Goddess, Encounters with a Legend of the Himalayas

Library-cataloging-data: visionary, metaphysical, mystical, esoteric, occult, enlightenment, knowledge, Nepal, Himalayan mountains