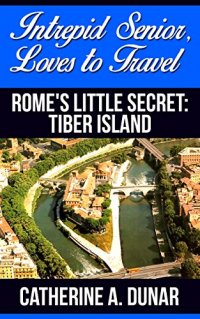 Although Rome is one of the most-visited cities in the world, and although visiting its main attractions can be daunting and exhausting, within the city's boundaries are a number "little secrets," smaller sites that are true gems.
These smaller sites are self-contained, not as time consuming, and accessible to seniors. One of these jewels is Tiber Island, located next to the historic neighborhood of Trastevere.
"Intrepid Senior, Loves to Travel. Rome's Little Secret: Tiber Island" by Catherine Ann Dunar is a guided walking tour of the island. The tone of the guide is conversational and welcoming. The author's twenty-two years of experience organizing and leading group tours, her own mobility challenges including a hip replacement and a knee replacement, and her doctoral research on Tiber Island, make this an informative and authoritative travel guide for seniors.
She gives directions for getting to the island, introduces the history and mythology of the island, and then invites the reader to walk with her across the island, revealing that which remains of ancient Rome. She also points out buildings housing modern businesses and religious groups on the island, and nearby sites in walking distance. There are notes on where to eat and drink, and nightlife on and around the island. She includes "Mobility Notes" indicting flights of stairs and difficult footing.
"Rome's Little Secret: Tiber Island" is intended as the first in a series of "little secrets" travel guides.
To order Intrepid Senior, Loves To Travel. Rome's Little Secret: Tiber Island click the BUY button and download your copy today. You can read the book from the convenience of your Kindle, Computer, or Tablet.