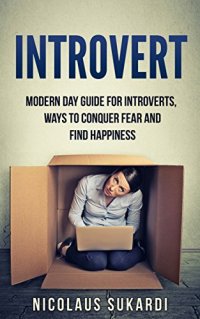 Bargain on 30th Dec 16



or borrow free on Kindle Unlimited.
No reviews yet.
Use this book as a guide to maximise your quality of life and happiness as an Introvert. Overcome your fear and be the person you were destined to be!
Who are introverts? The author Jonathan Rauch explains it best, "for introverts to be alone with our thoughts is as restorative as sleeping, as nourishing as eating". Other attributes such as 'they are more prone to deep thoughts and emotions'.
Have you ever experience the feeling of being suffocated in a nightclub full of people? Your friends seem to be having fun, dancing their hearts away, and here you are… sitting in the corner, sipping on your drink, and thinking to yourself, Man… I wish I was at home watching a movie right now.
If you find yourself occupied with these thoughts and it's affecting your social life, than look no further. In this book I have laid out step by step strategies to live and maximise your life as an Introvert.
Here Is A Preview Of What You'll Learn…
Challenges of being an Introverthow to be more socialWhy You Should TravelHow To Overcome SolitudeCareer And WorkplaceSee It As A BlessingAnd Much More Tips Inside!
Be the person that you were meant to be and get this Kindle Book now for only $0.99!