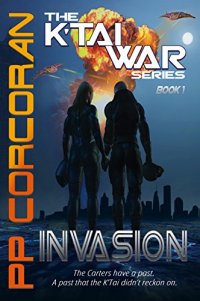 Free on 10th Jan 18



or borrow free on Kindle Unlimited.
No reviews yet.
"Page Burner! It's got it all, space battles, covert ops, bad ass heroes, and really nasty bad guys." – D.B Crelia
"A worthy Saiph successor … a well written page turner. I read it in one sitting and would highly recommend it." – barackroom
" Great Start! Pacing of plot and surprising twists reminds me of Assimov's "Foundation" series. Can't wait for future books." – Greenthumb
Humanity, previously dependent on the K'Tai for its Redlazore, discovers vast resources of the most valuable mineral in the galaxy on Agate and are now free to expand across the stars: Redlazore is also the key component to faster-than-light travel.
The planet Agate is, however, the human colony-world which lies perilously close to the K'Tai Imperium and the K'Tai resolve to put the upstart humans back in their place.
The K'Tai Imperium invades Agate.
On the ground, in the midst of the whirlwind conflict is the Carter family: Dave a mid-level exec is working in downtown Gemini City, Sue his wife, a high school teacher and their teenage twins, Jodee and Chris are on a school trip to a Redlazore mine.
In space, the League Border Patrol face overwhelming odds as the K'Tai fleet advance.
The K'Tai soldiers of the infamous Black Legion descend on Agate, opposed by the meagre, poorly-armed militia and a sprinkling of regular marines. The planet and those upon it are engulfed in the flames of war.
The K'Tai, however, did not count on the Carters. For the Carters have a secret. A secret which will cost the K'Tai Imperium dearly.
The Carters are Agate's human population's only hope.