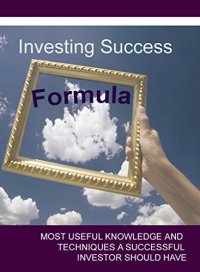 Bargain on 18th Dec 16



or borrow free on Kindle Unlimited.
No reviews yet.
Nowadays, investing becomes very easy. Everybody can open an investment account to buy mutual funds, ETFs, or favorable stocks online. There are also some automation software to help people trade through vendors' platform, which is called "Algorithm Trading". However, easier trading or investing does not bring easier profit and easy money. There are always significant risks involved in investing. To be a successful investor, you need to understand lots of knowledge and techniques. Otherwise, the investing results would be mediocre or even worse. This E-book will introduce the most useful knowledge and techniques that a successful investor should have. It's never an easy task to learn those new things. However, the high rewards will definitely worth the time and energy to be spent.
The E-book content includes: fundamental analysis, technical analysis, market cycle analysis, seasonality analysis, market top and bottom analysis, as well as good plan, psychology and self-control. This E-book also provides a list of books and websites which can help you obtain in-depth knowledge about investing.
Tags: Invest, Investing, Investing for Dummies, Investing for Beginners, Value Investing, Investing Books, Investing Strategies, Investing in Stocks, Investing made simple, Investing for Retirement, Intelligent Investor, Investment, Investment Books, Investment for Dummies, Investment for Beginners, Investment Management, Value Investment, Stocks, Stock Valuation, Stocks for the long run, Stocks for Dummies, Stocks for Beginners, how to invest, how to invest in stocks, kindle investing book, kindle investment book, investing for beginners, investing in stocks, how to make money in stocks, investing basics