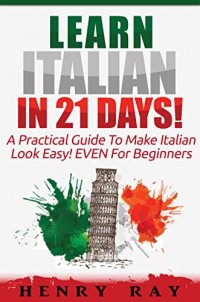 Free on 24th - 26th Jan 16



or borrow free on Kindle Unlimited.
No reviews yet.
Also Available as:
Print Edition

Learn Italian In 21 DAYS!
In this book you will find 21 highly-instructive chapters on the fundamentals of Italian grammar and communication strategically developed to respond to the needs of travellers, professionals, business owners, students, and self-learners for a learning material that will help them speak the language fluently and confidently in a few weeks time.
It offers a comprehensive yet straightforward discussion of the essential aspects of Italian grammar and provides the tools to help accelerate learning, enhance comprehension, and increase retention. It aims to provide a complete resource for students and language enthusiasts who prefer to learn the language at their own pace.
The first chapters are devoted to learning the basics: pronunciation, numbers, months, days, years, telling time, colors, and useful phrases for different occasions and daily conversations. The succeeding chapters provide an intensive discussion of grammar rules that new and intermediate students should know by heart to be able to communicate successfully in Italian.
Every chapter provides learning aids, charts, tables, and examples to make learning as easy as possible. The final chapter provides a listing of useful Italian terms.
Here is what you will find inside:
The Italian AlphabetPronunciation GuideCommon Italian PhrasesItalian NumbersMonths And DaysTelling Time, Dates, Year, And CenturyColors In ItalianForming SentencesCapitalization And PunctuationNounsArticlesPronouns And AdjectivesVerbs And Verb ConjugationsThe Simple Future TenseAdverbs And PrepositionsVocabularyBONUS CHAPTER from "German: Learn German in 21 DAYS! – A Practical Guide To Make German Look Easy! EVEN For Beginners"And Much, Much More…
Download Your Copy Right Now!
Tags: italian, learn italian, spanish, learn spanish, french, Italian language, learn french, german, learn german, portuguese, learn portuguese, language learning