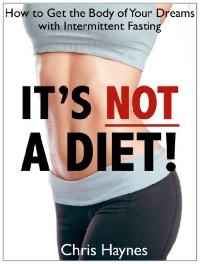 Free on 27th Nov 13 - 1st Dec 13


No reviews yet.
Are You Sick of Dieting?
Praise for IT'S NOT A DIET:
"If you've never tried fasting before, and are skeptical, I recommend you read this informative book. It's one you won't want to miss."

Linda May

Amazon Reviewer
"The best part of the book was the chapter about the author's own experience with IF. I found the author to be inspiring and encouraging."

Vicki Becker

Amazon Reviewer
"Boy, am I ever more glad I got this book…before you start your new year with a diet plan, check out this book! You'll be glad you did!"

Dawn

Amazon Reviewer
Is it possible to…
Lose weight eating foods you actually like?

Get fit without spending countless hours in the gym?

Forget about whatever the latest fad diet is…forever?
With Intermittent Fasting it is.
And It's Not a Diet! will show you how.
In this book you'll learn:
*What Intermittent Fasting is and why it's not a diet
*Why you DON'T have to eat 6 to 8 tiny meals per day to lose weight (despite what nearly everyone in the fitness industry says)
*Why your body WON'T go into starvation mode if you don't eat anything for 3 hours…or 6…or 24!
*That you really can lose weight eating foods you like
*That you can get in great shape without eating things you hate
*That you can be fit and still go out to dinner and have a social life
*Why working out on an empty stomach will help you lose MORE weight (no more 'pre-workout' meals or shakes)
*Why you don't have to join a weight-loss club or buy special pre-packaged meals to get in shape
*How Intermittent Fasting compares to all of today's most popular diets
You'll learn all of this and much, much more.
More Praise:
"I recommend this book for people looking for more information on this subject, and also for anyone who is considering trying IF."

Gloria Daniels

Amazon Reviewer
"It was very informative and thought provoking."

Lisa M. Ross

Amazon Reviewer
"Thanks for a great explanation and info on the use of fasting."

Grace

Amazon Reviewer
With It's Not a Diet! How to Get the Body of Your Dreams with Intermittent Fasting you'll discover that nearly everything you thought you knew about dieting, weight loss, and fitness is wrong.
With Intermittent Fasting you can truly get the body of your dreams and say goodbye to dieting forever.
Click the buy button above to get started NOW!