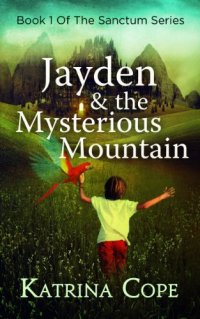 Free on 26th Feb 15 - 2nd Mar 15


No reviews yet.
Jayden & the Mysterious Mountain (The Sanctum Series) Book 1
Praise for Jayden & the Mysterious Mountain, Book 1 of the Sanctum Series:
"Reader beware you may find yourself not able to put this book down especially towards the end of the book!" ~ Angela, Book Reviewer
When a rich grandfather figure, strangely appears in the dark street, to rescue the young boy Jayden from homelessness, a life better than his dreams has come true. He is taken to a five star hotel – no, actually a school called The Sanctum, camouflaged in the mountains. The students build and operate high tech equipment, including surrogate robots all to fight against terrorism. Or are they?
By the way, you don't want to annoy Scarlet who runs the general operations of the building. She is one cheeky AI and plays nasty if you cross her.
Reviewer Praise:
"Bonus points to Jayden and the Mysterious Mountain by Katrina Cope for being a completely different story from any I've read lately." ~ L Lynne, Author
"I just wanted to take a peek at the first pages so as to get a feel of what to expect and ended up devouring the whole thing in just over six hours." ~ R. Artso, Author
"My daughter also started reading it and was instantly drawn in to the story and the characters…there are an assortment of personalities every reader will surely find one to gravitate toward." ~ Hottmama, Book Reviewer
If you like a book that suits
Late Middle Grade/Early Young adultAction packedSpy Thriller/Sci-Fi with heartHumorous in partsPositive messagesNo Magic, Vampires, Zombies etc.
˃˃˃ Editorial Reviews
Reviewed by Dinorah Blackman for Readers' Favorite 5 Stars
"The first few pages of the story guarantee that the reader will not lose interest and will read all the way to the end. ~ The story takes a number of unexpected twists and turns that keep the reader involved and interested in the outcome."
˃˃˃ The Sanctum Series: A modern late Middle-Grade fictional series for preteens & the young at heart:
Jayden & the Mysterious Mountain, Book One
Scarlet's Escape, Book Two – Released
Taylor's Plight, Book Three – Released
Eric & the Black Axes, Book Four – Expected release before the end of 2014
Scroll up and grab a copy today.