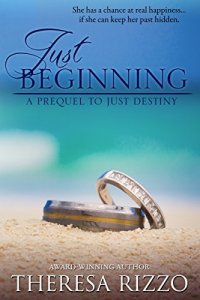 From award-winning author, Theresa Rizzo, comes this prequel to bestselling Just Destiny.

Twenty-something Jenny Campbell's life has been a series of screw-ups, and the latest one endangered her little brother's life. But when she falls for sophisticated Gabe Harrison, she has a chance to turn her life around…if she can keep her past a secret.
Gabe's career as a successful doctor has left just enough time for his teenage children and little else. But when beautiful, vivacious Jenny comes along, she breathes love and happiness into his lonely life. There's only one problem: their families are opposed to their relationship. Money and age differences mean nothing to Gabe as long as they have trust, love, and respect.
But can two out of three be good enough?