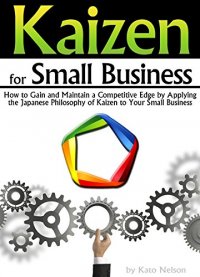 If you own a small business or plan to start one in the future, then this book is for you!
Read on your PC, Mac, smart phone, tablet, or Kindle device.
Starting a small business is a dream for most people, but if you don't know what you're doing then you can end up with a nightmare on your hands instead. A business is like a machine, and in order for it to function properly and deliver the results you want, it needs to be programmed correctly. "Kaizen" is a philosophy in Japanese business culture that has brought financial success to many companies in Japan. This Kaizen method of running a business relies on the core value of improvement above all else, not as individuals, but as a company. If you have a small business, or are in the process of starting one, then it's smart to consider introducing the philosophy of Kaizen into your company's culture and work ethic. This book is designed to explain the fundamental principles behind Kaizen, and also provide you with step-by-step methods for implementation. Be prepared, though, that Kaizen will be completely different from other business philosophies you may be familiar with, and drastic (though positive) changes will occur within the company. If you're ready to explore the idea of changing your business and gaining an edge over your competition for the long-term, then let's get started!
Here Is A Preview Of What You'll Learn…
The Concept of Radical TeamworkGetting Your Employees On BoardConfident Sharing of IdeasThe Never-Ending Path of ImprovementEstablishing the Quality CircleThe Five "S" Framework of KaizenMuch, much more!Download your copy today!