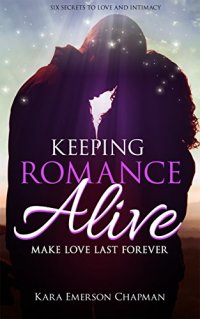 Can you fix your marriage?

Do you want to bring passion to your love life?

Are you seeking the secrets to lasting love and intimacy in a committed relationship?
Keeping Romance Alive delivers the secrets to a happy marriage and emotional fulfillment.

Men and women sometimes have divergent wants and needs. This handy book teaches you and your partner techniques to grow closer in your relationship, and maintain passionate love and intimacy in your marriage or partnership.
Keeping love alive requires more than just candles and mood music!
In this book, you'll find:
Warning Signs That Your Relationship Is In Trouble
What Happens To Love After Marriage?
Keeping Your Love Tank Full
What Drives Men – What Men Seek In A Relationship
What Drives Women – What Women Seek In A Relationship
Being Vulnerable vs Being Needy
Fostering Admiration And Friendship
Avoiding Jealousy And Resentment
Nurturing Closeness
What Drives Couples Apart – A guest chapter by family mediators Don Desroches and Dana Greco of www.consciouscouplingthebook.comCreating Shared Dreams And Desires
6 Ways To Keep Love Alive
Focusing On Common Ground
Effective Communication
** Also included is a handy list of 101 simple romantic ideas you can use to consistently deliver romantic, loving gestures to your partner.
Learn how to make your love last forever! Rekindle your romantic relationships and sex life, and keep romance alive in a passionate marriage!
"Enjoy your time together. It's one of the most important things you will ever have."
-Kara