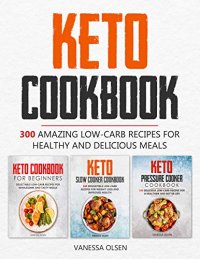 Master the keto diet as a beginner with appliances like a slow cooker and pressure cooker!
The ketogenic diet (abbreviated as ?keto?) can transform your health. How? Usually, your body burns carbs for fuel. On the keto diet, you shift the ratio of carbs to healthy fat. By eating very few carbs and more fat, your body starts burning fat. This process is known as ketosis. Ketosis has many benefits, including clearer, faster thinking, more energy, less chronic inflammation, and a stronger immune system!
In this book, you?ll learn all about the keto diet, what you can and can?t eat, and how to transition into ketosis. Sticking to a restrictive diet can be challenging, so you?ll learn about grocery shopping and eating at restaurants. In the first part, you?ll also learn about the keto diet and exercise. In the second part, we?ll talk about choosing and using slow cookers for your recipes. In the last part, the focus is on pressure cooking. All together, this book offer everything you need to succeed on the keto diet.
The book contains 300 recipes using an oven, stovetop, slow cooker, or pressure cooker, including:
BreakfastsPoultry and porkBeef and lambSeafoodHomemade keto-friendly condiments and saucesVegetarian mealsSoups and stewsDrinks and smoothiesSides and snacksDesserts
You might have heard that ?going keto? can be hard, but with the right know-how and appliances like a slow cooker and pressure cooker, you can master the diet! If you?ve been looking to improve your health and still eat delicious food, this is the book for you.