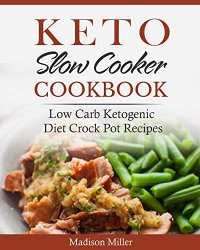 Enjoy some of the most delicious ketogenic meals while preparing them with little time and effort invested.
Download FREE with Kindle Unlimited!
The ketogenic diet is a dietary approach that can quickly lose weight and improve your health in more ways than any other diet out there. When you eat ketogenically, you get to eat with pleasure and enjoy some of the most delicious and richest ingredients.
Each recipe in this book has eight or fewer grams of net carbohydrates, making them perfect for your ketogenic lifestyle.
Here?s what you?ll get out of this cookbook:
? Spending less time in the kitchen
? Eating healthy and delicious meals
? Recipes that will satisfy even the pickiest eaters
? ? The many benefits of following a ketogenic diet include: Lose weight, gain mental clarity, feel energized, and more
? An awesome variety of ketogenic slow cooker recipes that are easy to prepare
? Each recipe comes with complete nutritional information, so you know exactly what you are eating
Inside, you?ll find:
? An introduction to the ketogenic slow cooker diet.
? Slow and easy to prepare soup recipes like the Chipotle Chicken Soup and the Beefy Onion and Blue Cheese Soup
? Flavorful poultry recipes like the Rustic Italian Chicken and the Brie and Pancetta Stuffed Turkey Breast with Blackberries
? Satisfying pork and lamb recipes like the Pork Loin with Peanut Sauce and the No Stick Ribs
? Delightful beef recipes like the Meatsy Pie and the Steak Stuffed Peppers
? Tasty fish and seafood recipes like the Poached Salmon Salad and the Seafood ?Pasta?
? Healthy vegetable and side recipes like the Ultimate Cheesy Cauliflower and the Creamed Onions
Read on your favorite devices such as Kindle, IPhone, IPad, Android cellular phone, tablet, laptop, or computer with Amazon's free reading Kindle App.
Scroll back up and click the BUY NOW button at the top right side of this page for an immediate download!