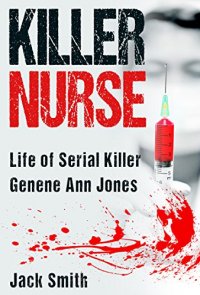 Hospitals are supposed to a place of healing, but wherever Genene Ann Jones worked, a trail of suspicious deaths followed. What makes this killer nurse one of the most sickening serial killers is that she targeted defenseless, innocent babies and children.
Download FREE with Kindle Unlimited!
Hospitals are where people go when they are sick, when they need medical help, or when they want to check on their health to make sure everything is going well. Nurses, doctors, and other medical staff are protectors that can help others get better, at least that is how it is supposed to be. When children are taken to the hospital, parents are confident that they are putting the lives of their children in the best possible hands for them to get well. What they do not expect is for one of the very people who are supposed to help their child, to hurt them intentionally instead, or even worse, kill them.
Death is sometimes a possibility with certain conditions and illnesses, but it isn't usually expected ? and even less so when a child dies in a way completely unrelated to the reason they are in the hospital in the first place. When there is confirmation that an intentional overdose of a specific medication was responsible, confusion and fear are quickly replaced by horror and anger.
Genene Anne Jones (also known as Genene Anne Jones Turk), although officially convicted of only one murder and one charge of purposeful injury and harm to a child, is believed to have killed or injured somewhere between 45 and 60 children and infants. Jones had a habit of putting children in deathly peril so that she could be a hero and save their lives. Unfortunately, she killed many more than she saved.
It is often hard to understand why anyone would want to kill another person, much less someone who works in a field with the sole purpose of helping and saving people. When the victims are children, the crimes become more appalling. When the killer is a mother, confusion grows even more. What makes a nurse who is a mother herself kill young, helpless children?
Read on your favorite devices such as Kindle, iPhone, iPad, Android cellular phone, tablet, laptop, or computer with Amazon's free reading Kindle App.
Scroll back up and click the BUY NOW button at the top right side of this page for an immediate download!