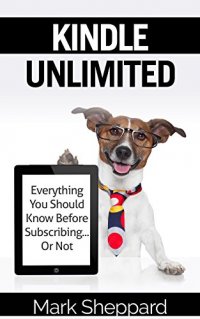 Should you do it or not? Kindle Unlimited subscription that is! Find out fast. This ultimate guide has all the information you need to know and consider before deciding.
Download FREE with Kindle Unlimited!
You?ve heard about it. You?ve read about it. You?ve even been on the verge of pushing the button to try it. But something keeps holding you back. The fact of the matter is that you really hate committing yourself and your credit card to a monthly obligation. We?re talking about the Amazon-based ebook subscription service Kindle Unlimited. You?re not alone. Others are wondering about the service as well. Finally, there?s a guide that can help you decide. It?s short, succinct, and easy to read.
There?s no hype, just the facts as gleaned from Amazon itself, publishing industry specialists, those who have already taken the plunge as well as authors whose books are a part of the service. Who else wants to learn more about this amazing, revolutionary ebook subscription service and whether participating in it is the right move for you?
In this book, here are only a few of the facts you?ll learn to help you make your decision:
An overview of the program
The differences between Kindle Unlimited and other subscription ebook programs
How to sign up for a 30-day free trial
Getting the most mileage out of your 30-day free trial
Discovering participating books ?
Learn if Kindle Unlimited is the right subscription program for your reading habits
Learning the difference between the benefits of Kindle Unlimited and Amazon Prime membership
How to cancel your membership
The advantages and disadvantages of the service ? for readers and authors.
THIS is the only guide you?ll ever need to make your decision of whether to join Kindle Unlimited or not.
Read on your favorite devices such as Kindle, iPhone, IPad, Android cellular phone, tablet, laptop, or computer with Amazon's free reading Kindle App.
Scroll back up and click the BUY NOW button at the top right side of this page for an immediate download!