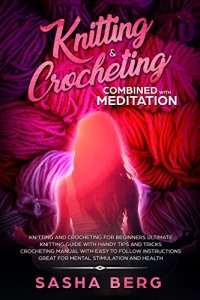 Bargain on 20th Nov 19



or borrow free on Kindle Unlimited.
No reviews yet.
o BEST GUIDE FOR BEGINNERS: This is undoubtedly one of the best knitting and crocheting books on the market and will be an invaluable source of knowledge for you on your journey to becoming an expert.
o STEP-BY-STEP INSTRUCTIONS TO HELP YOU LEARN FASTER: Includes step-by-step instructions that help you understand the intricacies of knitting and crocheting. They are easy to follow and understand, helping you get it right the first time.
o BEST TIPS AND TRICKS FROM A PROFESSIONAL: Learn tested and proven ways to knit and crochet from someone who has been doing it for years. Sasha has gone to great lengths to share all the tips and tricks amassed over years of learning and experimenting. We know you are going to love every page.
o PROVIDES GREAT MENTAL STIMULATION: Nothing helps you unwind after a long tiresome day like a bag of knitting accessories. This book will provide great mental stimulation and calming physical relaxation that you just can't get anywhere else.
o A BOOK WORTH EVERY PENNY: Compiling the contents of this book took years of hard work and dedication. All this knowledge is now passed on to you, to help you learn and understand everything about knitting and crocheting in the shortest time possible. We cannot think of a better way to spend your money!
o BONUS CHAPTER: HOW TO KNIT AND CROCHET A SCARF.
THE COMPLETE KNITTING AND CROCHETING GUIDE.
Are you learning how to knit and crochet but are having a hard time getting it right?
Looking for a handy manual to help lessen the learning curve?
Sasha Berg's knitting and crocheting will prove to be a helpful handbook.
It has all the tips and tricks you will need, explained in an easy to understand way.
It is perfect for beginners and experts alike and will be a great source of inspiration.
GREAT SOURCE OF MENTAL STIMULATION.
Knitting and crocheting stimulate the mind and can improve your mental health.
This book helps you tap into that by explaining all the nitty-gritty of crocheting in a step-by-step fashion that is easy to follow.
You are certainly going to love the simple flow and genius displayed in this book.
Here are benefits:
-Helps you become an expert faster
-Great tips and tricks
-Easy step-by-step instructions
-Provides great mental stimulation
-An excellent way to relax
Click "Buy Now Button" and Get Yourself This Knitting and Crocheting Ebook.