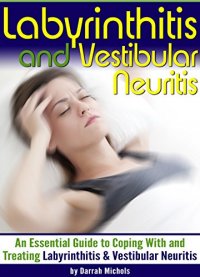 Free on 7th - 11th Oct 17



or borrow free on Kindle Unlimited.
No reviews yet.
If you want to better understand Labyrinthitis and learn how to combat this condition, then this book is for you!
Read on your PC, Mac, smart phone, tablet, or Kindle device.
There are various causes of vertigo or dizziness. Pinpointing the root cause will help in coming up with a correct diagnosis, without which, proper treatment will not be possible. The causes of dizziness may be due to Benign Paroxysmal Positional Vertigo, Meniere's disease, Labyrinthitis, or another Inner Ear disorder. This book goes into specific detail about the causes of and treatment options for Labyrinthitis and Vestibular Neuritis. Symptoms, home treatment, and diagnostic testing performed for Labyrinthitis and Vestibular Neuritis will also be revealed, together with some important pointers on how to cope and better manage the symptoms at home. But do keep in mind, this book is not a substitute for specific and customized medical advice that you should seek from your doctor. If you're ready to learn more about Labyrinthitis and Vestibular Neuritis, then let's get started!
Here Is A Preview Of What You'll Learn…
Causes and Symptoms of Labyrinthitis or Vestibular NeuritisDiagnostic Tests and Medical Treatment AvailableHome Treatments and RemediesHow to Manage and CopeImportant Tips for Labyrinthitis or Vestibular NeuritisMuch, much more!Download your copy today!