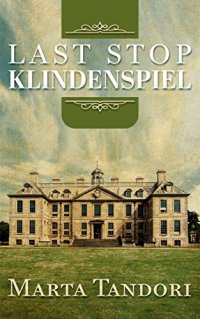 Free on 22nd - 26th Aug 15



or borrow free on Kindle Unlimited.
No reviews yet.
Combining the survival instincts made famous in THE HUNGER GAMES with the intensity of THE BOOK THIEF, LAST STOP KLINDENSPIEL is a tightrope of horrors that will make readers think twice about running away to join the circus…

It's been eight years since the Second World War has ended – long enough for people to forgive and forget – but feelings of hate run deep in Norway against people like fifteen-year-old Katya Holberg and her family. Separated from her father when the Allies liberated Poland, Katya and the rest of her family are sent to an internment camp in Oslo where they're eventually rescued by a Norwegian war hero. After four tumultuous years together, he brutally murders her sister, forcing Katya and her mother to seek refuge with her grandmother in faraway Droeback where Katya's mother is murdered by villagers soon after their arrival. Fearing for her safety, Katya's grandmother sends her to Klindenspiel, the only circus of its kind in Europe, where all of the performers are children. Once there, Katya quickly learns that all of the young performers share her terrible secret, making them more like her than she could ever have imagined. Things become complicated when Klindenspiel's artistic director pairs Katya with Aleks, a good-looking but secretive seventeen-year-old, who's skilled in acrobatics and dance. Curious about, and attracted to her new partner, Katya secretly follows him one night and learns the horrible truth behind Klindenspiel's magic. With the curtains about to rise on Klindenspiel's newest show, Katya and Aleks must give the performance of a lifetime – both on and off the stage – because their lives, and those of their fellow performers, are depending on it.