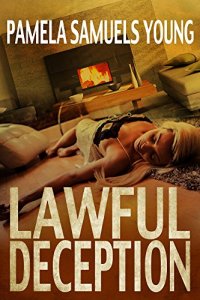 Free on 29th Dec 15 - 2nd Jan 16


No reviews yet.
"Pamela Samuels Young has crafted a page-turner that will keep you engrossed until the very last page. If you're a fan of smart legal thrillers with brisk pacing, crackling dialogue and edgy, intriguing characters, Lawful Deception is for you."

–Dwayne Alexander Smith, Award-winning Author of Forty Acres.
Once again, award-winning author Pamela Samuels Young delivers another captivating legal thriller full of unexpected twists and jaw-dropping moments you never see coming. The beautiful Bliss Fenton won't be winning any awards for Mother of the Year. Truth is, motherhood isn't nearly as important to Bliss as the cottage industry she's created: extorting wealthy men for the hefty child support she can collect.
But Bliss' greed goes too far when she takes on Fletcher McClain. The handsome music industry mogul refuses to accept her conniving conduct lying down. He retains high-profile attorney Vernetta Henderson to sue Bliss for fraud.

Enter Bliss' unscrupulous attorney, Girlie Cortez, who has a personal score to settle with Vernetta. As the two lawyers once again go head-to-head, their legal battle quickly escalates from merely contentious to downright deadly.