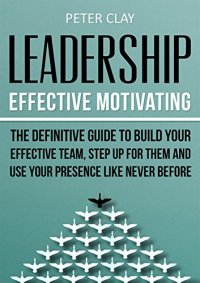 Free on 5th - 7th Jul 16



or borrow free on Kindle Unlimited.
No reviews yet.
Your Stimulating Guide to Leadership!

Free bonus inside! (Right After Conclusion) –

Get limited time offer, Get your BONUS right NOW!
Become an excellent leader that motivates a team for success
With Leadership: How to Motivate People Effectively, you'll learn how to motivate a team of people so that they work towards producing amazing results. This is a book that is full of techniques and tips for proven effective leadership, and which also explain why you can benefit from being a great leader. With this information, you will learn how to motivate people in the moment, as well as ensure that they remain motivated in the future. In this book, you will learn all about:
o The differences between passive and active listening

o How freedom affects motivation in a team

o How to be a person who leads by example

o The best way to motivate people so that they can achieve more

o How to connect with a future leader

o Dealing with a myriad of leadership situations
To be a good leader, you need to be passionate about what you are doing, so that this passion can trickle down to the rest of your team. You also need to be prepared for every possible scenario. This book teaches you how you can use contemporary leadership skills to motivate anyone who is working with you, or as a follower
Read this book for FREE on Kindle Unlimited – Download NOW!
Find out how so many legendary leaders have accomplished success by using this book to figure out how you should motivate your team and lead them to lasting success}
Just scroll to the top of the page and select the Buy Button. Download Your Copy TODAY!