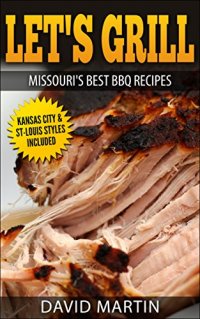 Have you ever tried BBQ food in Missouri? It?s sinfully good and should be on everyone?s bucket list!
Download FREE with Kindle Unlimited!
Few culinary styles capture the heart in the way that barbecue can. There is something about it that brings to mind warm, sunny days, meals with friends and loved ones, rich tradition, and the most delicious of meals. It is difficult to look at a photo of a barbecued meat without immediately being able to smell it; the smoke from the coals and scented woods, the savory sauces and seasonings, the meat releasing its aroma as the gentle heat infuses through it. Barbecue represents a life that we want to live: slow, relaxed, rich, and flavorful. Let?s enjoy cooking outdoor with the soulful flavors of Missouri style barbecue.
There are many styles and preferences when it comes to barbecue, and discussing favorites will likely lead to some friendly debates. Among these favorite styles, Missouri barbecue is a major contender. Kansas City and St. Louis are both known worldwide for their fantastic barbecue and soulful sauces. The flavors of Missouri barbecue are rich in tomato, just a bit sweet and slightly acidic with a touch of spice. It is a combination that is hard to resist. In Missouri, barbecue is a way of life and a work of art.
In this book you will find everything you need to create great Missouri style barbecue food, no matter where you are from the barbecue grilling and smoking techniques to classic and innovative recipes. Inside find:
?Heavenly pork recipes you will make again and again like the Stickiest-Ever BBQ Ribs with Chive Dip.
?So good, it melts-in-your-mouth beef recipes like KC-Style Burnt Ends.
?Mouth-watering poultry dishes such as Lemon Pepper BBQ Grilled Chicken.
?Soulful fish and seafood recipes including Dill Weed Trout on the Grill
?Sides to make any barbecue a joyous feast like Succotash.
?The perfect finishing sweet touch like Gooey Butter Cake.
?The story of barbecuing in Missouri.
?Techniques that you can use for successful barbecuing
?And much more!
Read on your favorite devices such as Kindle, IPhone, IPad, Android Cellular phone, tablet, laptop, or computer with Amazon's free Kindle App.
Scroll back up and click the BUY NOW button at the top right side of this page for an immediate download!