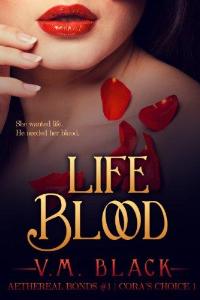 First Episode in the Bestselling Completed Vampire Serial
Introducing a world in which vampires are born, not made…
She wanted life. He needed her blood.
Cora Shaw will do anything to live. Diagnosed with terminal cancer in her senior year of college, she is given a choice: Call hospice, or seek out a mysterious man who promises an impossible–and insanely dangerous–cure.
She knows him only as Mr. Thorne, a reclusive billionaire who seems full of contradictions. A man with strange, impossible powers over her.
A man, she discovers, who is not a man at all.
Cora's Choice Serial Novellas – Aethereal Bonds
This book is approximately 24,500 words / 105 pages.

Next book – Blood Born – 24,500 words / 101 pages
˃˃˃ New Adult Paranormal Romance / Urban Fantasy
The Aethereal Bonds world presents sensual stories within a fully imagined urban fantasy world, replete with vampires, werewolves, demons, and faes. The Cora's Choice series follows the story of Cora in a twist on a classic coming-of-age tale as she is thrust into this strange new world.
Scroll up and grab a copy today.