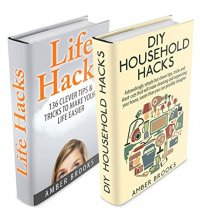 Life Hacks 136 Clever Tips & Tricks to Make Your Life Easier & DIY Household Hacks Astonishingly Simple but clever tips, ticks and shortcuts that will make cleaning and organizing your house easier than you can possibly imagine
Learn more than 100 life hacks for yourself, your home and your lifestyle
* * * FREE Bonus book included * * *
Do you want to take it easy in life but don't know where to start? Are you worried that your household chores are getting too much to bear? Are you thinking that your personal and professional life is getting unorganized? Are you feeling the need to improve on your finances? Do you want to make your home the best that it can be? Do you want a smooth sailing personal and professional lifestyle? Do you want to retake control of your money issues? Well then this set of books is for you!

Life hacks are your best bet to still take it easy in life while successfully completing your house chores, organizing needs, productivity requirements, financial planning and other tasks you have set for yourself. This set of books has over 100 lifehacks that you can choose and apply. They are practical, easy and most important effective!

Here Is A Preview Of some of the information in this set of books…
Chapter One: 32 Lifehacks for cleaning and maintaining your home, the smart way!
Chapter Two: 30 Life Hacks for getting yourself and your surroundings organized
Chapter Three: 35 Life Hacks for Cooking, Serving and Eating
Chapter Four: 25 Life Hacks for Increasing Productivity, the easy way!
Chapter Five: 14 Life Hacks for managing money, saving more and spending less, the easy way!
Chapter One: Around the Home and General Cleaning

Walls Floors Baseboards, Windows and Doors
Chapter Two: Living Room and Dining Room

Living Rooms Sets, Sofas and Chairs Wood Furniture Appliances
Chapter Three: Kitchen

Sink, Oven and Fridge Cabinets and Countertops Appliances and Other Kitchen Tips
Chapter Four: Bedrooms
Chapter Five: Bathroom

Tub and Shower Toilet Sinks and Mirrors
Chapter Six: Tips and Tricks and Other Rooms
Download your copy today!