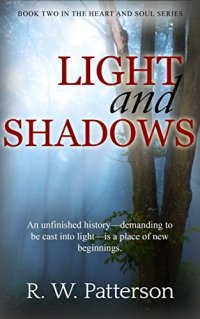 Free on 11th - 14th Mar 18



or borrow free on Kindle Unlimited.
No reviews yet.
Light and Shadows, the second supernatural romance novel in the Heart and Soul series, follows Elaine Pearson and lycan-vampire hybrid, Ian Kearney, as his dark past and precarious future clashes with hers in a tumultuous quest for truth, clarity and peace.
Both wounded and scarred by tragedy, Elaine and Ian struggle to find peace amidst unexpected revelations about her shadowed heritage, while Lycans attempt to steal her from his arms. Surrounded by mounting uncertainty, they must navigate sudden trials and tribulations in which they find themselves mired, or risk losing each other forever.
Can the obstacles of a resurrecting past be overcome and resolved before their path to becoming soul-mated is irrevocably damaged?
Will the pervading turmoil of the Lycans drive a wedge between two lost souls only seeking sustenance and acceptance from the other?
In the darkest of hours–when all seems lost–can a forgotten history become a place of new beginnings?
Follow their unfolding journey in the third Heart and Soul installment, Dark Night of the Soul.
R. W. Patterson recognizes the books in the Heart and Soul series are recommended for Adult Audiences as they contain mature scenes and violence. She also recognizes for story flow, readers are encouraged to read the series in order: Solace from Shadows, Light and Shadows, Dark Night of the Soul, and Light Over Dark Water. Each book is not intended as a stand-alone work.