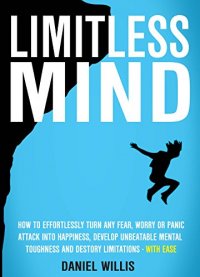 Are you struggling to treat your panic attacks or general anxiety? Are you frustrated, in pain, or feeling constant worry and stress for not being able to properly deal with your anxiety despite all your efforts?
Do you constantly fear the worst case scenario In every situation? Do you obsess over everything in your head? Are you avoiding situations or things that you wish to do or participate in because of your fear and anxiety?
Do you fear to leave the house, making holiday plans or business travel?

If you answered YES to any of those questions then you need to read this book
You're about to discover what might be the most powerful treatment system ever developed. It's the same system thousands of people, just like you, used to permanently treat their panic attacks, and achieve freedom from general anxiety.
My name is Dan Willis and over the past 14 years, through a long process of trial, error, and experimentation, I have developed a sure-fire, 100% guaranteed, clinically researched system that is backed by 75,000+ hours of expertise for treating panic attacks and anxiety. This is a very rare, highly unique and potently powerful general anxiety treatment system, which very few people even know exists…
Imagine…
No More negative thoughts and worries to the point of obsession?
No More spontaneous heart racing
No More hot flashes, especially when you're anxious
No More feelings of being afraid that the next anxiety attack
No More fear of leaving the house
No More fear of meetings or public speaking
Here's a small sample of what you'll learn
3-step holistic anxiety and panic attacks cure system- 97.8% success rate at stopping anxiety and panic attacks permanently

7 UNIQUE and EXCLUSIVE steps to analyze your panic attacks
Powerful 10-step self-hypnosis plan to calm that inner chatter rushing through your head and triggers your anxiety

The 7 most important nutritional foundations to an effective panic and anxiety cure program
REVEALED: Learn the best and most effective method of facing your fears: using the Fear Hierarchy Table

Several of the best-kept anti-anxiety supplements that almost NOBODY knows about…compiled by a 14-year study

The 2 breathing strategies that significantly help your body and mind to start to heal itself, calm your thoughts and ward off panic attacks and anxiety thoughts
How will your life improve if you follow Limitless Mind?
Achieve clarity of mind, peaceful feelings, relaxation and balanced thoughts

Dramatically improve your relationships with your loved ones and other people.
Boost your self-confidence, and every morning enjoy the thoughts instead of fearing them

Become more social, charismatic, talkative and likable person
Leave your home, plan holidays or stay alone without any fear or anxiety

What are you waiting for? Take action now and download this book for a limited time discount!
One-Click for a Healthier, Happier Mind!