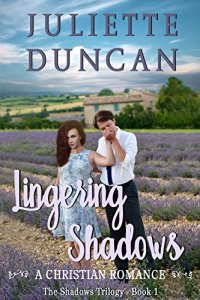 Also Available as:
Print Edition

"The author has written a story that is so compelling I couldn't put it down. The story shows there is hope and redemption through God's love and forgiveness and that He is working in lives even during the most trying of circumstances." Ann. E amazon.com

Lingering Shadows is Part 1 of a 3 book series, and is not a stand alone novel. It offers a FREE preview of the series, and the story continues in Book 2 "Facing the Shadows"

Born of wealth and privilege, Elizabeth Walton-Smythe's future should have been set in stone. The headstrong teacher and her minister beau should have been married. That was the plan, as far as Lizzy was concerned. But, that wasn't to be, and one fateful encounter with a roguish Irishman quickly alters Lizzy's future and sends her heart and her life into a tailspin.
Marriage shouldn't have been an option, but in her haste to rebel and escape, it soon became her reality. Now, she's faced with a new, different kind of fateful decision. One which will test her faith and her resolve. With secrets from Daniel's past lurking and deep, dark secrets of her own to contend with, can the love that should have never been be salvaged, and will these two seemingly lost souls be able to endure the greatest challenge of their lives?
This is a story of passion, love, and of God's inexplicable desire to free people from pasts that haunt them, so they can live a life full of His peace, love and forgiveness, regardless of the circumstances.
Interview with the Author

Q. So what makes "The Shadows Trilogy" special?

A. ""The Shadows Trilogy" is a series of Christian romantic novels dealing with some very complex and challenging issues, including alcoholism and abuse. Some readers may be concerned that Lizzy doesn't seek help at the first sign of Daniel's problems emerging. However, in real life, it's usually not that simple, as women have to deal with a whole gamut of emotions, which someone who's been lucky enough not to have had any personal experience with these issues may not be aware of. I've tried to present a realistic story of how someone is Lizzy's situation in the early 1980's would have handled the situation. But the overall theme of the story is how God's love and forgiveness can change people's lives if they allow Him in, and I sincerely hope readers take heart from that. When I set out to write this series, I wanted to create a contemporary Christian romance with captivating, real life characters facing challenging, real life issues, and a story line that would touch reader's hearts. The books could be classified as Christian romantic suspense novels, as there's definitely an element of suspense in them.
Q. What order should I read the books in?

A. As the story unfolds progressively, it's important that you read them in order. Book 1: "Lingering Shadows", followed by Book 2: "Facing the Shadows", and then Book 3: "Beyond the Shadows".
Q. So, why should readers give these books a go?

A. Anyone looking for satisfying Christian romantic fiction with real life issues would enjoy this series. My hope is that by reading this Christian womens fiction series, my readers will be challenged to draw closer to God, and to let go of any shadows in their own past that might be holding them back from living a life full of God's grace, peace, and forgiveness.
Overall, I believe that "Lingering Shadows" is a Contemporary Christian romance novel that will appeal to any Christian woman seeking an enjoyable but challenging read.