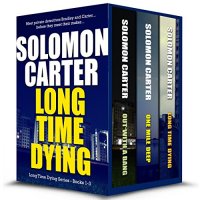 The first three books of the thrilling Long Time Dying series brought together for the first time in this exclusive boxed set collection.
1. Out With A Bang
It's 2011. Eva Roberts and Dan Bradley, private detectives and troubled lovers agree to help DI Rowntree track down his missing brother. What starts as a simple case becomes a criminal morass of lust, sleaze and corruption which threatens to lure Dan to wicked temptation and Eva into deadly peril… Will Dan give in to the charms of the wicked diva Anna Eavis? And how can Eva survive the murderous threats ranged against her?
2. One Mile Deep
It's 2012. The precocious and beautiful Miss Zdenka Kruz has escaped a sex-trafficking gang in the North only to wind up in dangerous circles in Essex. Eva Roberts is asked to protect the girl and convince Zdenka not to risk her life.Zdenka has enlisted the help of Eva's old flame James Winstanley. From the moment they meet the trouble really starts… Will Eva give into her old flame? Is Zdenka safe at the mysterious club Dormammu – a place where anything goes? All is not what it seems and danger lurks behind every door in this heart-racing adventure.
3. Long Time Dying
It's 2014. Dan has resurfaced from the nightmare which ruined his partnership with Eva… just in time to be drawn into the very heart of darkness. Eva's old boss Devon Parker asks her to help save Dan before it is too late but Eva has long had enough of Dan Bradley's troubles. But just as she is about to walk away, the deadly danger closes in from every angle… on a scale Eva has never ever seen. The darkness is calling. If Eva follows its call her new life will surely be destroyed. But if she doesn't, Dan's life is already over.
Long Time Dying – Private Investigator Crime Series books 1-3
Thrilling adventures featuring Eva Roberts & Dan Bradley, private detectives

The Long Time Dying Series by Solomon Carter

categorised as:

Mystery Series Most Popular

Thrillers and mysteries best sellers

Thrillers and mysteries best sellers new

Thriller London Crime series

Crime thrillers free

Crime Thrillers Best Sellers

Thrillers 100 must reads

Sexy Thriller

Thriller Female Protagonist

Crime Thriller series

Essex thriller series

Essex fiction
Don't forget your exclusive free story with the newsletter at solomoncarter.net…
The Long Time Dying series – in reading order

1. Out With A Bang

2. One Mile Deep

3. Long Time Dying

4. Never Back Down

5. Crossing The Line

6. Divide & Rule

7. Better The Devil

8. On Borrowed Time

9. The Dirty Game

With much more to follow…