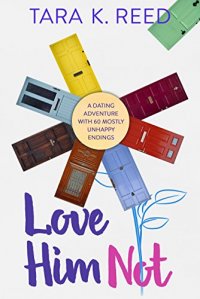 Free on 31st Jan 17 - 4th Feb 17



or borrow free on Kindle Unlimited.
No reviews yet.
Are you an expert at the game of love? Find out in Love Him Not, an interactive unromantic comedy where YOU become the protagonist. As Elle Masters, you'll navigate hundreds of familiar dating dilemmas and passionate predicaments inspired by popular advice books and modern romance. Each choice is more complicated than the last, and the stakes are raised with each turn of the page, but you'll have backup from Elle's best friends, Rachel and Valerie, who put the "antics" in "romantics."
With 60 endings ranging from "I don't know what happened!" to "I do," don't be surprised if art imitates life and you throw this book across the room… only to pick it up and try again. One more time. Because, unlike real life, when you don't like the outcome, you can go back to a pivotal moment and explore the path not taken, or even start over at the beginning.
Buyer Beware: Happily Ever Afters are hard to come by in Love Him Not. In fact, most of them are flat out unhappy. Still, with persistence, you might find one or two endings that downright satisfy – even if it means Elle drives off into the sunset alone.
HOW TO READ THIS BOOK:
It's simple: start the story as you would any other, reading until you're presented with your first dilemma! Decide between the two options offered and tap your choice at the centre of the link, which will advance you to the appropriate *SECTION number (NOT PAGE number) where you'll see what you've gotten Elle into — or out of. And so it goes. Until you die. Well, you won't "die," but your relationship will. (See "throw book" above.) But then you get dozens of chances to do it over again!
For maximum heartache, track your progress so you don't miss a single choice or ending. Visit www.Doorflower.com for a printable 'Heart-A-Track' sheet that lets you cross off each section as you go. While you're there, get a copy of the Love Him Not 'Happy Endings' Map in case you want to skip the trials and head straight to the fibrillations!