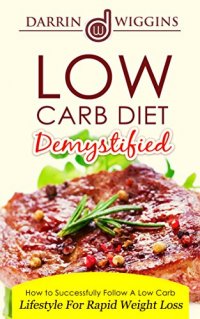 Free on 23rd - 27th Feb 15


No reviews yet.
This book appears to be unavailable on Amazon.co.uk at the current time. If this is incorrect, please let us know here
Who Else Wants to Use A Low Carb Diet For Rapid Weight Loss?
Tired of getting zero results from the diets you follow? Hate it when you spend hours a week searching the internet for the latest weight loss plan, cooking low carb food and exercising only to look the exact same? Want a REALISTIC, step-by-step high protein, high fat, low carb plan for rapid weight loss?
Losing weight doesn't have to be hard. The secret is to find what works for you and not deviate from it. In the guide "Low Carb Diet Demystified" you'll get all the information needed to experience extreme weight loss using a low carb lifestyle.
You DON'T Need a Complicated Low Carb Diet To See Results
You've probably read numerous diet books that offer HUNDREDS of different dieting tips. You may have also noticed half them contradict the other half. My question is this: "How do you know where to start when it comes to living a low carb lifestyle?"
Think of all the low carb diet strategies you've recently heard. You've probably been told to:
Cut all carbs. Eat only meat. Oil is bad for you. Coconut oil is good for you (that's oil isn't it). Don't eat bacon. High protein, high fat. High protein, low fat. You don't need eight glasses of water a day. You shouldn't eat before bed. Never eat complex carbs. Avoid bananas. Eat gluten free. Eat foods labeled low carb. Drown yourself in artificial sweeteners. High fat diets are bad for you, no wait, good for you.
Try to do all these things and you'll KILL your weight loss efforts. You don't need dozens of different ideas. Instead you need an easy to follow low carb lifestyle strategy that's PROVEN to work! There is no need to follow the restrictive diet practices of the past anymore.
Follow This Simple Low Carb Diet Plan for Amazing Results
"Low Carb Diet Demystified" details every step you need to take for achieving any weight loss goal. The best part? You can easily do it without fat burners, hours and hours of exercise or giving up all the foods you love. In a nutshell it is a high protein, high fat, low carb diet with some cheat days thrown in for good measure.
Meaning you can enjoy your meat, your avocados, cook with butter while still enjoying selected carbs. Don't worry, you will still get to have some treats in your diet. We are enjoying low carb living not "DIEting".
You also get your own low carb cookbook with 25 delicious low carb recipes at the end of the book as a bonus for all your hard work.
You'll learn how to:
Maximize the secret sauce behind low carb dietingDesign a low carb meal plan that melts the fat offAvoid the low carb diet mistakes you don't even know you're makingWhy your scale is lying to you like your deadbeat exWhy coconut oil has to be a part of your low carb dietGet results twice as fast from your efforts in the gym or out on the track with one small changeWhy a high protein, high fat, low carb diet is the absolute best way to lose weightHow you can treat yourself to a cheat and lose even more weight
Weight loss can be systematized. There is no need for yo-yo dieting or buying book after book when "Low Carb Diet Demystified" can give you everything you need to finally be free from answering everyone's question of "How is your weight loss going?" Your body is going to answer that for you from now on!
Just follow the guidance in this low carb diet book and you'll be on your way to achieving rapid weight loss.
Would You Like To Know More?
Download and start living a low carb lifestyle today.
Scroll to the top of the page and select the buy button.