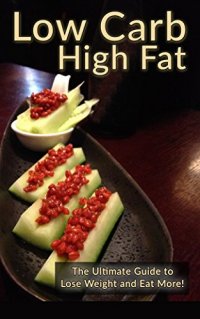 Master The Steps to Lose Weight and Get Control of Your Diet Today!
Discover how to finally eat the right foods and lose weight so that you can be fit, healthy and energetic!
In The Low Carb High Fat Diet, you will learn steps and strategies to help you be more conscious about the foods you eat day in and day out. You'll also learn what foods to incorporate into your diet to help you lose weight and what foods to not eat to avoid backtracking while on this diet. This is the ultimate guide to help you become more healthy and lean, while eating foods that are to your benefit and also taste delicious as well!
As you probably know, your health and what you eat affects every aspect of your life. It can affect your mindset and mentality, the amount of energy you have throughout the day, how you feel about yourself, your emotional state as well. This guide will help you get on the right track to having a better diet so you can meet your weight loss goals.
Here Is A Preview Of What You'll Learn…
The four main phases to see results!.

What foods to eat

What foods to avoid.

A weekly diet plan to follow
Pick up this book today for only $0.99 and get on your way to losing weight, being fit, energetic, healthy, and happy for life!